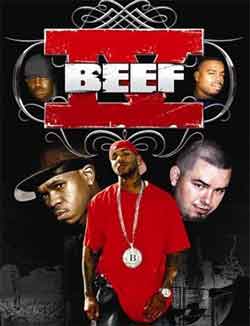 Beef IV es la cuarta edicion de las series Beef, un documental acerca de las rivalidades del Hip Hop y las peleas, lanzado el 18 de Septiembre de 2007 y dirigido por Peter Alton y narrado por Charlie Murphy.
Beef se ha expandido de sus raices en el Hip Hop hasta la cultura entera. Skaters, basketbolistas, actores y comediantes estan teniendo sus propios Beefs! En Beef IV se revela la verdad acerca de muchos tipos de Hip Hop Beefs dentro y fuera de la cultura. Beef IV toma una extensa vision dentro de lo que se puso mal y de quienes insultaron a quien, explicando porque cada un o llego a tener problemas con el otro.
Separando lo real de lo falso con un toque comico, Beef IV incluye entrevistas con The Game, Chamillionaire, Paul Wall, Proof, Young Jeezy, Bow Wow, Trina, Jacki-O, Lupe Fiasco, Terry «TK» Kennedy de Ice Cream Skateboarding Team, Bun B, Slim Thug, Beanie Sigel, Damon Dash, Daz, Kurupt, Obie Trice y muchos mas!
Los Hip Hop Beefs que encontramos dentro de Beef IV son: Lil Romeo vs. Bow Wow, Damon Dash vs. Jay-Z y la separacion de Roc-A-Fella, Lupe Fiasco vs. Terry «TK» Kennedy, Trina vs. Khia vs. Jacki-O, Paul Wall vs. Chamillionaire, Young Jeezy vs. Gucci Mane, Proof de D-12 (R.I.P) vs. The Source Magazine, Daz vs. Kurupt, The Game vs. Ras Kass, Dave Chappelle vs. Comedy Central y Jamie Foxx Vs. LL Cool J.
Ademas Beef IV cuenta con material extra como: el backstage del tattoo de BEEF de The Game, Bun B sujetando a Pimp C(RIP), Paul Wall rompiendo sus Grills, la historia de Obie Trice de Proof en LA, por pelearse…, Beanie Sigel insultando a Kanye West y mas…